United by Language, Separated by Culture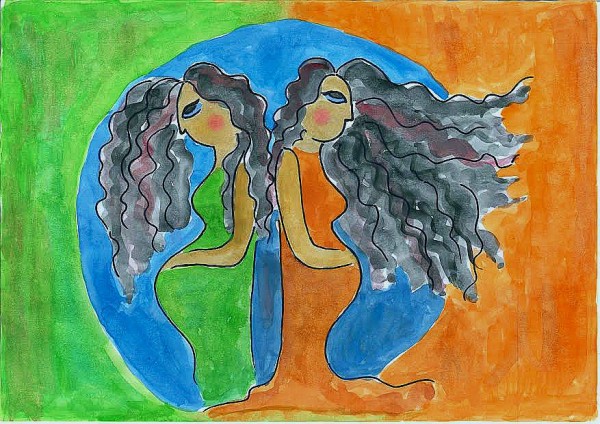 An Indian Mother and a Pakistani Mother Meet in a Zurich Hospital.
It's not often that nearly a year and a half later, the memory of a conversation with an acquaintance has stayed with you and keeps coming back to you every few days, as if you had just met and spoken yesterday, and thinking of the conversation and the acquaintance brings you strength, pity, joy, and sadness all at the same time. It is on this note that I wish to tell the story of a 21-year-old mother whom I met when I delivered my second baby girl last year at the University Hospital in Zurich.
June 2, 2013—it was sometime after 1:00 in the morning, I think. They wheeled her into the same post-delivery care room that I was sharing with another woman. Each of us was assigned a dedicated midwife who would take care of us for the next two or three days that we spent at the hospital. Fatima* – that's how I am going to call this new mother from Pakistan who joined us in our room. As I patted my little one on her back to help her burp between feeds, I saw Fatima's midwife was taking down her basic information. "No Deutsch. Very little English," Fatima said, trying to calm her newborn.
"Name?" "Fatima."
"Date of Birth?" "8th September, 1990… yes, this baby is my third child," she said.
For a moment I was unsure of what I had heard. "Three children by age 21?" I thought. The midwife wanted to know if she had any allergies or needed any medication for pain. But as I saw Fatima struggling to answer, I said in Hindi – a common language spoken in both India and Pakistan – that I could help her communicate. Soon afterwards, the midwife was done filling in her form, and she said goodnight to both of us. It had just been an hour or so since Fatima had given birth. As the midwife left the room, Fatima thanked me and said, "It's good to hear Hindi in this country, feels like I am talking to my own people." I smiled and said, "Sleep, let's get to know each other tomorrow."
Next morning over tea, I was on phone with my husband and my parents. They were updating me on my older child's activities. This was really the first time I had ever been away from her for 24 hours. But they were all going to be visiting me later in the day. As I hung up, Fatima asked me, "So your parents are here?" "Yes," I said, a little surprised by the question coming from a fellow South Asian.
Being Indian or Pakistani or, for that matter, from any of the South Asian countries, it is quite a common practice for couples living abroad to call their parents to come over and take turns helping in the first few months after a baby is born. When I gave birth to my baby girls – my first in 2011 in Amsterdam – my parents came over for three months, and in 2013 in Zurich, too, I first had my parents and then my parents-in-law to help me smoothly through the first six months.
During both my pregnancies I had met many other Dutch and Swiss couples who went through the birthing process and post-delivery care on their own. At the most, they had their parents over for a week or so to celebrate the new baby in the family. In fact, my neighbours and Swiss friends were quite amazed that we had both our parents coming over to us for six months. But it was a bit shocking to hear the same amazement from a Pakistani mother.
"And who's here with you? Your parents or parents-in-law?" I asked. "No one. It's going to be just me and my husband," she said. Her mother was still taking care of her teenaged siblings back in Pakistan, so her coming was out of question. And her mother-in-law, who was supposed to come over, had had to cancel her trip a week before travelling, as her sudden heart ailment needed major treatment.
"Wow, three kids at 21, and you've both managed alone," I commented. "Yes," she said. "In the five years that I have been married all I have done is have three kids." I was not sure if she was happy or sad as she said it.
"My son is three. My second is a baby girl – 19 months – and now I have this one, Anaya," she said, as she picked up her newborn and held her close.
It was then she began telling me her story. Fatima was 16 when she got married. Though the Pakistani laws make it legal for Fatima to be married at 16, she had been looking forward to a making a career in academics before she settled in for marriage. As a ninth grader Fatima topped her class in her Urdu middle school. "That was that. Post-marriage, I never thought of education again," she said.
Fatima had said okay to getting married, just from seeing a picture of her husband-to-be. "I didn't know anything about him", she said. I was shocked. Not because she had an arranged marriage, but because it felt like she came from a different time period altogether. Arranged marriages from just looking at a photo happened in the early eighties when my parents got married. I too had an arranged marriage, but it was different in a sense: we saw each other's pictures and checked profiles on Orkut (the most used social networking site in India before Facebook). We spoke over the phone, met, and then were in a long-distance relationship between New Delhi and Amsterdam for the next six months till we got married.
But as I saw Fatima's story, she was a happily married child. "My husband… he is a very loving and a caring person, you know," she said, smiling. "He cooked so many varieties of delicious dishes for me when I was pregnant." Her husband, who came to Switzerland in his teens, started working as a helper in restaurants and over the years he has specialized in salads and many other dishes. Now in his early thirties, he works at a popular Indian restaurant in Zurich.
Though a loving partner, Fatima's husband never made it to the delivery room with her. "He can never see me in so much pain. He starts crying when my contractions begin and he gets very nervous. So I told him to stay away and take care of the kids. All three times I have managed my labour pains alone. He would drive me to the hospital and go back home and be back after the baby is born. But after the baby is born, he takes complete care of me. Now he will help me; he has taken a month's leave from work."
It pained me to hear all of this. And yet, she gave me strength at the same time. No one discussed marriage with me when I was 16. My parents were more keen to know what academic and career ambitions I had and in what way they could support me. I studied journalism and worked for few years before being married. My husband and I first became friends before becoming a couple. We watch news shows and argue, taking sides and respecting each other's opinions with just as much intimacy as we would experience cuddling up in a cosy corner to watch "Notting Hill" for the umpteenth time.
My mother and my husband were my birthing partners the first time. During contractions, there comes a stage when you think you can't take it anymore. I had my partners holding my hands, doing the rhythmic breathing during every contraction. They were by my side to tell me, "Think of the baby and you will feel better. You can do it." During my second delivery I had my husband with me, while my dad waited outside praying and my mum took care of our first at home.
As a new mother, I have always read books and searched for baby information online, besides checking with my mum and mum-in-law. Being part of many mothering forums online and here in Zurich has helped me meet, discuss and understand parenting matters better.
As my parents and my husband and two-year-old arrived, I waved hello to them. I saw Fatima covering her face with her stole. Fatima and I spent two more days at the hospital before heading back home with our babies. Her husband and kids visited her. But once the visiting hours were over, we were left to each other's company.
She liked painting and watching Indian soap operas. In the three days that we spent with each other, never did the strained relationship between our countries come up in discussion. We didn't talk about Kashmir or the conflicts in which both our countries were engaged. But we did discuss the one big rivalry that interests every Indian and Pakistani: the game of cricket.
"Did you watch the IPL (Indian Premier League)? I loved it. Even though there was no Pakistani player in it. I love Dhoni's team, the Chennai Super Kings. I hope the next time they include Pakistani players in the game," she said excitedly.
We discussed kids, Bollywood movies, favourite actors and our favourite foods – vegetarian Indian that we both liked and non-vegetarian for her.
As Fatima opened up to me I saw how she was dealing with motherhood while still very young. Fatima didn't seem too keen to share her contact details, and I didn't press. My younger daughter is now 15 months old, and we never met again after our hospital time together. But often there are days when I feel low or I am struggling with my two little ones, and she comes to my mind. Thinking of her gives me some strength: if at 21 she can manage a house, three kids and a husband without having the sort of education, career and family support (husband, parents and parents-in-law) that I have had – let alone the liberal upbringing where I have made many of my own decisions – then I am mature enough to handle my own life and kids.
By Keerthana Nagarajan
Illustration by Sharanya Mageshwaran
Keerthana Nagarajan lives with her husband and two little girls in Zurich. She is currently freelancing with swissinfo, covering Indian-Swiss stories. Keerthana worked previously in the Netherlands at Radio Netherlands Worldwide, covering South Asia news, and CNN's sister concern in India CNN-IBN, a 24-hour news channel. Here's the link to all her published content: http://keerthananagarajan.blogspot.in
Sharanya Mageshwaran is a stay-at-home mom of a very naughty three-year-old who speaks better German than her mother does. Before moving to Zurich, Sharanya was a pharmaceutical research scientist in India. She loves painting and sketching with fauvist expressionist abstract themes. More of her artwork can be see here: http://somelightandcolor.blogspot.ch/
*Please note that 'Fatima's' name and date of birth have been  changed to respect her privacy.