Fishing is a great way to spend time with family. It provides a nice balance of quiet time and action. It can be boring when the fish aren't biting, but these moments leave us time to come up with different strategies and just have fun hanging out together. I have nice memories of time spent fishing as a child, and so does my wife. So we had talked about doing this for a while and we finally made it happen.
We have lived in Switzerland for many years now, and we understand that quite a few recreational activities here involve a lot of rules, regulations and hoops to jump through. A good friend of ours who does a lot of fly-fishing back in the U.S. told us about his findings after he inquired about fishing the streams around here. He explained the overall process, the money, etc., and said that in the end, he decided to take his gear back to the U.S. and leave it there.
Over time, we talked to more people about their experiences and found that some types of fishing are much easier to do than others. Fly-fishing in streams seems to be the most complex and expensive. Fishing in lakes, on the other hand, is not so bad. In most cases, the general rules, costs of permits, etc., are governed by the specific lake or canton, so it's necessary to research each location so you know how to proceed.
I won't go into detail regarding the various rules and regulations, but here, for your perusal, are some helpful sites with information on fishing within canton Zurich: Zurich Fishing and Regulations. Calling or emailing the government authority or a company that specializes in the field is my standard practice when it comes to investigating what is required by law. Ask directly; don't believe everything you might find on forums or unofficial sources.
Although fishing on a public lake seems like a fairly easy thing to do, my family does not own fishing gear and we probably won't go on a regular basis. So we opted for the easiest option of all – a fish farm.
We went to a place called "Fishing on the Farm." Fishing on the Farm is just north of Luzern and is set high in the rolling hills of that region, offering nice views of the surrounding countryside and mountains in the background.
The place has good reviews online. Most are positive, but as always, some negative reviews are out there, too. We decided to try it mainly because most of the positive reviews mention the extremely helpful and friendly staff. Also, their services seemed to offer us novices everything we need to have a fun, low-stress outing.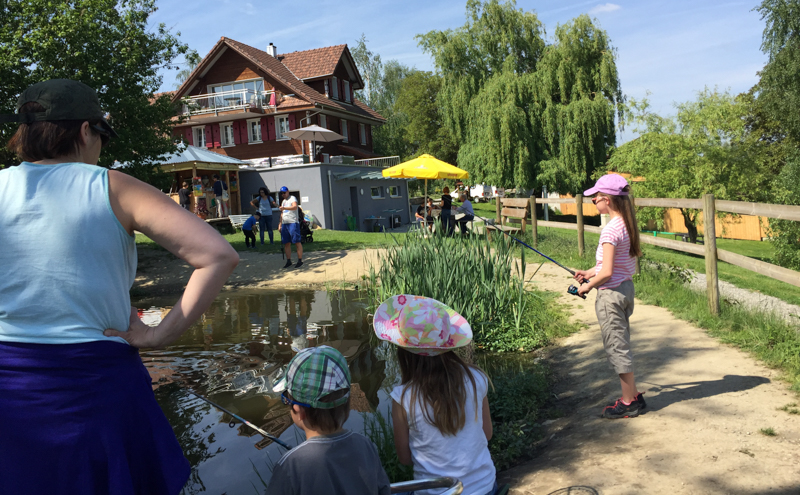 We arrived with cash and not much else. First impressions were positive. Quite a few people were there and it clearly had a family-friendly feel. The two ponds are definitely small, so I took the kids over to find a spot on the upper (shaded) pond, while my wife went to get the gear and find out how things work.
She came back with everything we needed – poles, corn, net, towel, bucket, long clamps and a little club to knock out the fish before removing the hook. They also sell mealworms for a couple extra francs. Otherwise, all of the gear was included in the price you pay for the fish you catch.
The pond was heavily stocked with trout, so we honestly did not think we would be there very long. However, it took more time than we thought, so we ended up going with the mealworms for bait and got some drinks from the snack bar. After about an hour and a half, each of us had caught at least one fish and had had a lot of fun.
We wrapped things up and took the gear back along with our fresh catch. The personnel asked how we wanted the fish prepared. All of the options were included in the price of the fish (by weight), and you could have the fish vacuum-sealed if you didn't plan to cook them right away. There was a restaurant where I believe they would prepare a menu with your fish, but we wanted to grill them at home.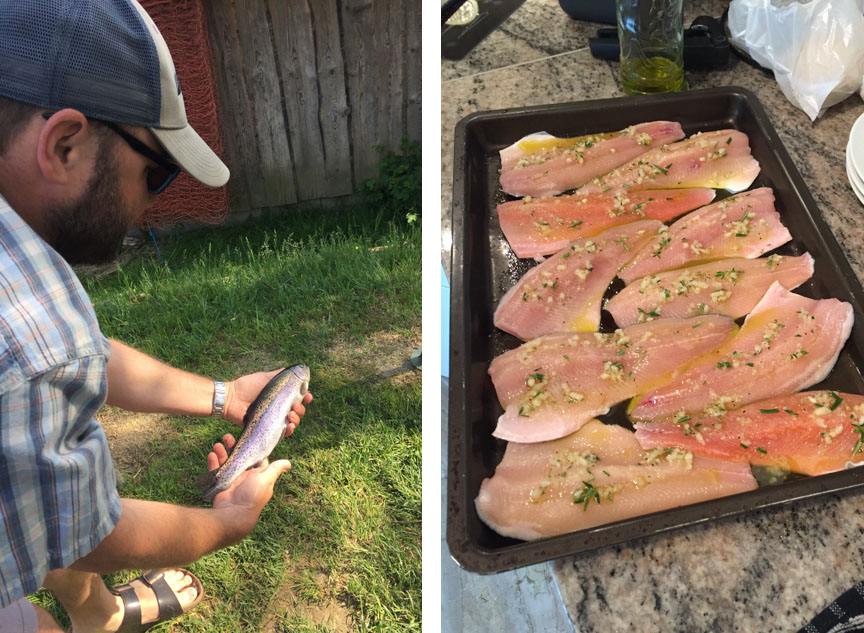 Five minutes later, the fish had been filleted, and the total price for everything was around 50 francs, which we thought was well worth the fun and easy experience. In the beginning, I was a little skeptical about so many fish in such a small pond, but the fish seemed healthy and were very tasty.
The reviews praising Fishing on the Farm for friendly service were indeed true. When we lost a hook, it was replaced in just a few minutes and everyone was helpful and pleasant. There was a snack bar for drinks, ice cream, etc. The place was pet-friendly as well. Overall, we had a great experience and would recommend it to anyone who just wants to try fishing with the family to see how it goes. If you're looking for more than that, the option of lake fishing is probably the way to go.
Story and photos by Brian Wilson
Brian is the father of three children. He teaches golf and has started a new venture brewing craft beer at Ullr Brewing in Einsiedeln. Coming soon…www.ullrbrewing.ch